Our Trainers
Darin Post
The in depth curriculum of NK9 allowed Darin to graduate with endorsements/certifications in:
Puppy Development
Basic Obedience
Advanced Obedience
Behavior Modification
Breed Identification
Retrieval
Assistance Dog Training
Tracking
Scent Detection
Personal Protection
Utility
Kennel Management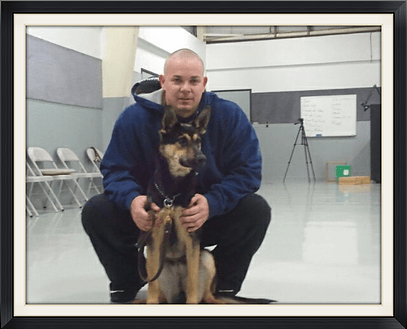 Darin has always had a passion for dogs. His dog training career began with the rescue of an abused, but sweet pitbull off the streets. She was friendly, but also fearful and nervous. Darin thought it was in her best interest to hire a professional dog trainer. After a few in home lessons the trainer could see Darin had a knack for training dogs, so the company offered him an apprenticeship.
A year into the apprenticeship Darin lost his job due to the recession. He decided to take a risk on something he loved and enrolled in the intense program of The National K9 Learning Center's School for Dog Trainers. NK9 is highly regarded in the fields of dog training, behavior modification and dog education. As a graduate of the National K9 Learning Center, Darin earned the title of Master Certified Dog Trainer.
With his knowledge and education, he is confident training any breed no matter what the issue, and his years of experience give him the skills to teach you how to properly handle your dog. Along with the formal training at NK9, the program gave him extensive training in dog care and kennel management.
Darin continues his education by attending workshops and seminars to stay informed on new training methods and ideas.
When Darin is not working with clients, he enjoys working with his own dogs. Nurturing and training dogs is not just a full time job for Darin, it is a way of life. There are a lot of dog trainers out there, but it takes a special kind of person to welcome people's dogs into their home to care for day in and day out. Darin and his family take time out of their personal life to care for client's dogs as if they were their own.
"I know it sounds corny, but when you love what you do it doesn't really seem like work. I have clients and regular boarders that have been with me for years. They, and their dogs are like family. We spend time together outside of work, and they are kind enough to invite us to their social functions and special events. I am lucky to do what I love for a living, and even luckier to work with such kind and supportive people."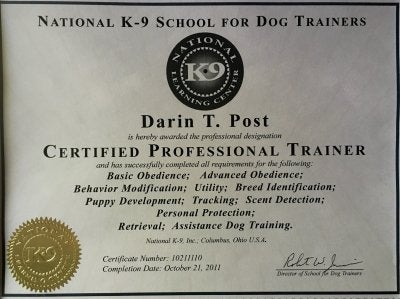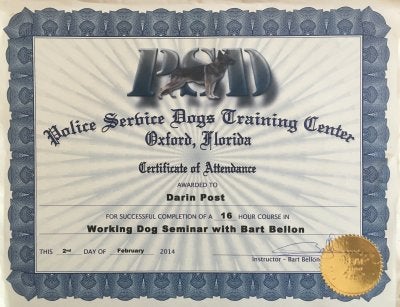 Why Choose Us?
Family-Run Business
Multiple Training Methods
One-on-One Personalized Training
Specializes in Agressive Behaviors
Certified from National Canine Learning Center
No Discrimination For Any Dog Behavior or Breed
Can Properly Read a Dog's Body Language and Can Anticipate Behavior